Our Stories
The Reading-West Windsor Food Shelf (RWWFS) was formerly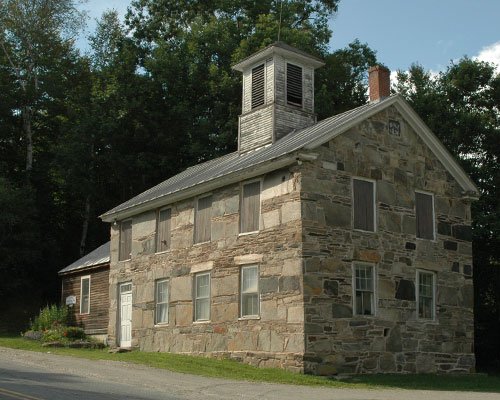 the Reading Food Shelf. It is a non-profit, all-volunteer corporation whose primary mission is to provide nutritious, high-quality food to anyone who needs food assistance in Reading, West Windsor and adjacent communities that do not have a food pantry. There is no official needs test and clients are not restricted in terms of frequency of visits. RWWFS has served more than 65 families in the past months. The vas majority of families have at least one working member or are elderly and just can't make ends meet.
Situated in The Stone School (built in 1834) in South Reading, RWWFS has been described as "a Vermont country store without a cash register". It benefits from free rent and utilities provided by the Town of Reading. The 2012 budget for the purchase of food is $33,000, representing nearly a one-third increase from 2011. A % of food is purchased at steep discounts to wholesale from the Vermont Food Bank or is obtained free of charge through USDA programs. The balance is donated or purchased from local merchants.
---
Good news...the idea of hungry Vermonters is unacceptable to many in our local community.
The Reading-West Windsor Food Shelf board is often touched by unexpected demonstrations of concern and charity. Recently a Reading woman contacted our board chairperson, stating that her family had collected donations for the food shelf. She was having trouble getting to the food shelf during its operating hours and arranged to meet the board member at the town store at an appointed hour and day. Arriving at the store were a woman and a seven year old girl. The child asked if she could offer her gift first and then proudly handed over $100 in one dollar bills and change.  The woman proceeded to hand over $837 in small bills! This is an example of a local family not being able to accept that 13% of all Vermont households are food insecure.

Another unexpected surprise was being contacted by a representative from the Green Mountain RSVP and Volunteer Center.   This group had resolved to fill a city bus with food for local food shelves in front of Springfield's Shaws. They succeeded and we were able to fill a van with food for our food shelf. They also gave us $140.